Honda, Toyota and Other Import Performance and Racing Engines By Eddies
Eddies Performance rebuilds, repairs and modifies many different Import engines as well as supply crate engines. Whether its a Honda, Toyota, Nissan, Mitsubishi or Subaru, Eddies can accomodate your engine needs. Eddies builds many import tuner motors and crate motor combinations a year with many different performance configurations that depends on the car and customer wants and needs. Many of these fast import engines we modify find homes in cars like the Honda Civic, Honda CRX, Acura RSX, Mitsubishi Lancer, Subaru Impreza WRX or Subaru STI, Toyota Supra, Honda Prelude, Scion, Nissan 300zx, 350z or Infiniti G35.
There are many different import tuner engines and crate motors, most notably the V6 versions that Nissan and Toyota use and the turbocharged 4 cylinder versions used mostly in Honda VTEC, Subaru, and Mitsibishi. While these engine versions are very popular, they also have the most performance parts available for them which makes them easy to modify and get big horsepower gains.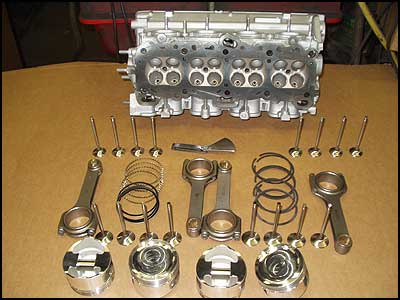 Honda VTEC Cylinder Head and High Performance Parts Kit
Honda Crate Engine, Toyota Crate Motor From Eddies Performance
Eddies Performance can supply you with a honda crate engine, toyota crate engine or any other import engine you desire. Whether its a Honda VTEC, Toyota, Nissan, Mitsubishi or Subaru, Eddies can accomodate your import crate motor needs. Just give us a call and specify the year, make, engine size and model and we'll get back to you with price quote for a brand new crate engine for your import. We can even take your new import crate motor and make modifications such as porting, polishing, boring and honing, camshaft modifcations, and balance rotating assemblies.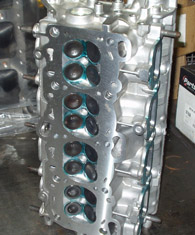 2.0 Liter Ported Mitsubishi
Lets Eddies Get Started On Your New Or Rebuilt Import Tuner Engine
Before we get started it is important for us to understand what you will be using this engine for. One of the most important factors in designing an engine is that we must emphasize power and torque within the RPM band where the engine will spend a majority of the time.
So will this engine be for a weekend warrior, drag racer, street performance racer, or basic street performance as an everyday driver? All these factors matter along with budgetary parameters and your application may be somewhat complex. Of course we'll help you make the right decisions that will fit your budget, produce power and torque and benefit the most enjoyment with your new engine. That's what we are here for!
Rebuilding an engine can be a very rewarding experience, working with us and designing the engine for your car. When you work with us you will become familiar with what your engine is. Remember that it's important not to "overbuild" and to save as much money as possible. A common fault of many other engine builders is their inability to analyze their customers needs. This produces an expensive engine with exotic parts that will never be needed for the application and in turn can disappoint the customer and create buyers remorse.
But at Eddies our plan is to create an engine for you that produces the most power for your application, but with cost in mind. Eddies will help you plan your engine for exactly the driving you intend to do. Our goal is to have a satisfied customer and this creates the word of mouth reputation that has made Eddies a top import engine builder in the United States for over 35 years.
Quality Control With Your Engine Is Our #1 Priority
At Eddies Performance quality control is an important factor in our customer experience. Careful measures in checking and double checking clearances is our precedence in producing a fast, reliable engine that will bear our responsibility.
If you would like to discuss your application please give us a call on our toll free number 1-800-471-2325 from 9am to 5pm EST.