Testimonials For Eddies Performance Motors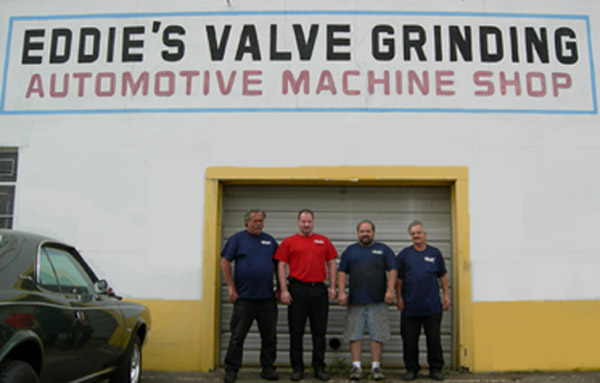 Listed below are just a few of the many emails and testimonials we receive from our customers at Eddies Performance. Many of our customers who get crate engines or just rebuilt engines brag about our phenomenal customer service we provide them throughout the entire engine building process.
"You guys really did a great job on the chevy engine in my 68 Camaro. The last engine (my 350 chevy engine) I had done by the other local shop was always having problems running lean, overheating and I really don't think the rings really seated properly. When I decided to rebuild the engine I was thinking about more power, but I was worried about how much money it would cost. After we spoke I made an informed decision based on the information you gave me and it was the right one. I can't tell you how much I appreciate you guys working with me on building a 383 chevy stroker engine that not only had much more power than my 350, but also gave more power for the dollar. It was a pleasure working with all of you. Its been over a year now and the engine runs absolutely flawless!"
--Doug Chaser - Middletown, NJ


---
"After doing a ton of research over the internet on where I can buy the best chevy crate engine I decided to go with Eddies Performance. I can't tell you how much your 35 years of experience, dedication and focus helped me get the most reliable chevy crate engine I could find on the internet. When I first got the engine we installed it and I could not wait to start it up. After we finally installed it and made sure everything was hooked up properly, it started up just great and it runs so smooth. It's been three weeks now and I'm still breaking it in on my Camaro, but I could just feel the power push me in the seat (can't wait to open it up!). Thank you for your personal commitment, passion and professionalism through the entire process of building our 350 chevy crate motor!"


--Thomas Crawley - Red Bank, NJ


---
"I want to thank you for such a great job rebuilding the engine on my Dodge 440 engine in my 69 Charger. This thing is so smooth and so fast. It's amazing how even the power is throughout the entire RPM band (great cam choice Ed). While I thought it was going to be a great amount of money to get the power I would want in my Dodge motor, I found that with Eddies Performance you can build a quality engine without spending crazy money to get big power. Thanks for being totally honest and up front during the entire process and really assisting me with the information I needed to feel comfortable about the modifications we were making and staying with our budget and you did that, informing me every step of the way. The motor has been running excellent and you should hear the way it purrs ;) I highly recommend you to so many people. No wonder why you have been around for so many years.


--Bob Krautheim - Short Hills, NJ


---
"I just wanted to let you know about the progress my team has made since we switched engine builders last year. Last year if you can remember our car was in the low 14's. After you rebuilt the same engine to your specs I dropped to 13.2 at my first run last week. To let you know I changed nothing else except your motor and my times dropped nearly 1 full second. Whatever you modified in my engine configuration, it worked to perfection! For not much money it seemed like we got much more power than I ever expected. I really owe you so much for taking the time to do some great work on our engine. I just wanted to let you know how satisfied we all are. Thanks Again!


--Steven Rackers - Chicago, Illinois


---
"Thanks to Eddies Performance Engines we won our class in Super Street this season. With your engine, our 67 Camaro consistently pulled anywhere's from a 10.8 to 11 sec time most of the season. Since we had not one failure during the entire year we won the Super Street championship! I can't thank you enough for all your help, advice and expertise."

--Mike Lane - Columbus, Ohio


---
"I want to thank all of you for the engine services you provided me with my 57' T Bird. Before you rebuilt our engine it was struggle to get our ford motor to run consistently every time. It seemed every time we went to a car show, it would break down or have some kind of failure. Once you rebuilt the engine it has been impeccable with regards to every aspect of engine performance. I recommend your shop to everyone I come across at the shows and I wish you continued success with the business. It goes to show me that 35 years experience has to pay off somehow. Thanks Eddie!"

--Skip O'Neil - Toms River, NJ


---
"Eddie, I have been racing for over 5 years now in the Street Stock division at our local raceway. I never really had the money most racers have to run up front, but after last week that all changed. After you rebuilt the engine and made all the modifications I finally won our first week out with our new Eddies motor. When the race was over they tore me down because I was pulling them on the straightaways so bad. After the tech guys looked high and low for cheating they found nothing illegal in our engine. I can't thank you enough for taking the time and doing it right. After years of losing and never winning a race I can't explain what it feels like to finally win. I wouldn't of done it without you! You guys rock!"


--Nick Sendron - Orlando, Florida


---
"We won three weeks in a row now with our IMCA Modified! Thanks for all your help, and personal interest in our success. There is no doubt in my mind that no one can build power like you can!"

--Dan Thompson - Ames, Iowa


---
"Your expertise, professionalism, enthusiasm, and familiarity with the racing and automobile engine industry have proven to be an invaluable resource for our team. When developing our racing engine, you took the time to carefully assess our needs and track configurations; convey them to your 'team' and then implemented performance strategies to 'tailor' our engine. The result – a reliable, fast, engine that was consistent wherever track we went.

We continue to be impressed by your engine building success with others who use your services. In April, when we got another new motor, you facilitated necessary instructions that would give us our best chance for success. Currently we have the most wins in our division this year. We have experienced a significant change with our results and attribute a great deal of it to your engines you have built for us. Thanks so much for being a part of our success and we will keep you updated on our progress."


--Jeff Taylor - Austin, Texas