Internet Special #1
Chevy 350 with 350 HP Crate High Performance Motor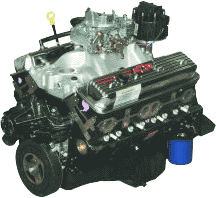 This Eddies Performance Chevy 350 engine boasts 350 HP and is suitable for basic street and bracket racing applications.
Listed Is Our 350/350 Engine Specification Sheet:
Edelbrock Aluminum Performance Intake Manifold
Chrome Thermostat Housing
Holley 4 Barrel Carburetor
Chrome Air Cleaner
HEI Distributor W/53,000 Volt Coil
8 AC Delco Spark Plugs
Custom Fit Taylor 8mm Ignition Wires
New GM Fuel Pump
Fuel Line And Inline Filter
High Flow Cast Iron Water Pump
Chrome Valve Covers
Chrome Breather
Complete PCV Ventilation System
Painted Color Of Choice
GM 350 Crankshaft Assembled (Clevite Bearings)
GM Pink I-Beam Connecting Rods
GM Cast Aluminum Pistons And Ring To Match
Three Piece True Double Roller Timing Set
Competition Cams High Performance Camshaft 
16 New Lifters
World Products Cast Iron Cylinder Heads
Chrome Moly Push Rods
GM Rocker Arms W/1.5 Ratio
Engine Will Be Assembled With All Brand New Bolts
High Volume Oil Pump And Screen
Painted Oil Pan
Chrome Dip Stick And Tube
Painted Timing Cover
GM Harmonic Balancer
Set Of OEM Gaskets
Rotating Assembly Balanced
Special Internet Price $4,899.00
All engines come with new starter and flex plate (for auto trans) Additional $150 for manual transmissions.
This engine does not include alternator or headers. Each engine is run tested for timing set and carburetor adjusted for maximum performance.
---