Chrysler Performance Engine and Racing Motors By Eddies
The Chrysler performance engine and Mopar racing motors are the some of the most powerful engines that go through our machine shop. Eddies builds, rebuilds and blueprints many hemi Chrysler and Mopar motors a year with many different performance configurations that depends on the car and customer wants and needs. Many of these fast chrysler engines find homes in cars like the challenger, charger, superbee, cuda, imperial, roadrunner and 300. Chrysler stroker engines we build like the 332, 347, and 409 are fast and reliable as well. Some people fit these motors into a modified classic car or muscle car because of ford engine performance horsepower advantages.
There are many different chrysler mopar engines, most notably the V8 small block versions like 318, and 360 cubic inch or the big block V8 chrysler motors such as the 383, 400, and 440 ci. Also available are the Hemi engine series While these engine versions are very popular, they also have the most performance parts available for them which makes them easy to modify and get big horsepower gains.
The Chrysler Performance Engine - Eddies Overview
The recipe for building a potent chrysler performance engine for your car is a procedure that has been crafted through years of experience at Eddies Performance. Most of us utilize the very engine that is in our car looking to get a rebuilt engine, but we can work within your needs to build a great mopar engine. Here is an example of some common normally aspirated chrysler engines we build with some impressive horsepower at Eddies:
- Chrysler 318 Engine - Up To 350 hp
- Chrysler 360 Engine - Up To 450 hp
- Chrysler 383 Engine - Up To 500 hp
- Chrysler 400 Engine - Up To 530 hp
- Chrysler 440 Engine - Up To 575 hp
There tends to be some truth in the phrase "no replacement for displacement" when it comes to small or big block chrysler motors. Adding displacement is the easiest and most cost effective way to increase horsepower throughout the entire RPM band. But with today's technologies and the machining modifications that we utilize at Eddies we can get impressive horsepower with stump pulling torque utilizing a chrysler engine as small as a 318.
Lets Eddies Get Started On Your New Or Rebuilt Chrysler Engine
Before we get started it is important for us to understand what you will be using this engine for. One of the most important factors in designing an engine is that we must emphasize power and torque within the RPM band where the engine will spend a majority of the time.
So will this engine be for a weekend warrior, drag racer, circle track racer or basic street performance as an everyday driver? All these factors matter along with budgetary parameters and your application may be somewhat complex. Of course we'll help you make the right decisions that will fit your budget, produce power and torque and benefit the most enjoyment with your new engine. That's what we are here for!
Rebuilding an engine can be a very rewarding experience, working with us and designing the engine for your car. When you work with us you will become familiar with what your engine is. Remember that it's important not to "overbuild" and to save as much money as possible. A common fault of many other engine builders is their inability to analyze their customers needs. This produces an expensive engine with exotic parts that will never be needed for the application and in turn can disappoint the customer and create buyers remorse.
But at Eddies our plan is to create an engine for you that produces the most power for your application, but with cost in mind. Eddies will help you plan your engine for exactly the driving you intend to do. Our goal is to have a more than satisfied customer and this creates the word of mouth reputation that Eddies has enjoyed for over 35 years.
Eddies Basic Chrysler Performance Engine Rebuilding Information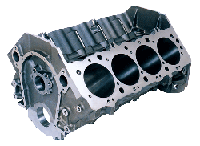 The Engine Block
When it comes to building an engine you always start with the main foundation - the block. While it may appear that all small block or big block Mopar engines use a few different blocks that generalization couldn't be further than the truth. There are over a dozen production based bore/stroke and main bearing diameter small block mopar cylinder blocks and well over 25 big block configurations we use. These all have different characteristics that are considered when designing your engine.
It would probably take an entire website to get into detail the different small block and and big blocks that make each one special. But for basic purpose we'll concentrate mainly on the 318 small block V8. The most popular is the 383 with the 4 bolt main and this is the one we use mostly.
Being in the engine building business for many years we have a nice collection of special blocks that we can use for your application and if we think you require a different type of block for speed/reliability, we'll find it.
Once we get the block we thermally clean and steel-shot peen before checking it for cracks using magnaflux. The block is then bored with a Rottler Boring Bar and honed with a Sunnen CK10 hone. When all machining is finished, the block is pressure washed, then Clevite cam bearings and brass freeze plugs installed. This is our basic procedure on engine blocks.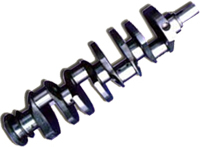 The Crankshaft
Getting into a more complex area of engine design we move to crankshafts. The good news is that most crankshafts are more than adequate for high performance street use. While we use cast steel crankshafts for most of our engines we also utilize the more exotic metal cranks.
Even with steel cranks there are more variations of material. Most small block mopar cranks are forged from 1053 steel, but the one we like to use that offer good reliability is the 4340 steel cranks by Scat or Eagle. These cast steel crankshafts will be used as needed for maximum strength and reliability. Our modifications to these crankshafts depending on your application are spin balancing and weight modification before assembly.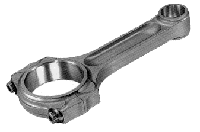 The Connecting Rods
Connecting rods may be one of the most obscure parts when we build your chevy engine. They won't be responsible for producing globs of power but they are important for engine reliability and prevention of a costly overhaul later on.
If we are using stock rods or ones existing in your engine then magnafluxing is important. This process is used to find any surface cracks or fractures in the rod. If the rods pass the test, then shot peening is usually suggested. This surface procedure usually costs less than $50, but it reduces the chance of stress risers forming on the surface of the rod and could save you thousands of dollars later.
Another area important area is the connecting rod bolts. We use a high quality ARP bolt that can resist pressure of over 200,000 psi. Using this high quality connecting rod bolt setup on your engine helps us ensure against any rod/cap failures.
When setting up your engine the rods are resized using Sunnen honing equipment. Finally the rods are balanced to within 0.05 grams.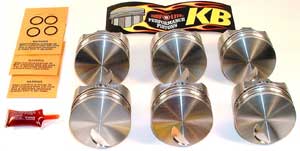 The Pistons
Tuning the induction, exhaust and cam timing is an all out effort to maximize turning the air/fuel mixture into heat and power. Pistons are what make all this happen and as with everything else in our engines and there are plenty to choose from. All the factors taking into piston consideration are the bore/stroke/compression ratio and ring combinations that are for your specific application.
At Eddies we use hypereutectic pistons, which are cast aluminum pistons with a high silicon content. These pistons can withstand the higher RPM and cylinder pressures of the engines we build. The high silicon content of these pistons form as a temperature barrier which in turn retains more heat in the chamber and results in less thermal expansion over conventional alloy and stock cast pistons. At Eddies we use hypereutectic Keith Black or Speed Pro 10:1 compression pistons. For the high power engines we produce, we use a hypereutectic piston that are skirt coated to reduce friction at the extreme high RPM's the bigger power engines put out.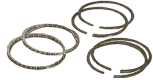 The Rings
While all rings may look the same there are many different materials used in the industry. The poor cast stock rings are not to be used in any application and is susceptible to failure under detonation. While ductile or nodular iron is a better choice we still recommend and use the molybdenum rings.
Moly rings boast superior seating time which guarantees a quick break in for the customer. They also produce exceptional seating and can whether all effects of changes in the combustion chamber. Eddies uses File Fit Plasma-moly rings are used to reduce friction and drag on the cylinder walls which produce the best horsepower and reliability.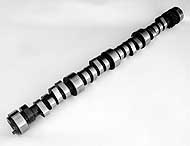 The Camshaft
Since cylinder heads are the most important part of the engine, then we would have to say that the camshaft is a close second. The camshaft is basically the brain of the engine because it controls the air/fuel ratio by opening and closing the valves. There are so many variables when choosing a camshaft that is perfect for your needs and a novice or inexperienced person could get lost at all the choices out there. Thankfully enough you will have our experience to lean on when we design your engine.
At Eddies we like the design and ranges used by Crane or Competition Cams. These specific cams are used for their power increase and drivability. As hydraulic camshafts, these are self-adjusting to eliminate valvetrain noise. We then install a Manley true roller timing set to ensure accuracy during engine operation.
The Oiling System
As you may know there is much more to your engines oiling system than just the pan, pump and filter. Bearing clearances, oil galleys, windage trays restrictors and breathers all play an important part in a well designed oil system. Controlling the oil and getting it to where it needs to go and back again is an important part of your performance engine.
While the stock oiling system works well with stock volume and stock pressure, your modified engine will require a different pump. While more pressure tends to help the lubrication of your engine it is important to point out that too much pressure requires more engine power to create. At Eddies we found through all our years of building engines that the Melling high volume oil pump, pickup, and drive rod setup work best to ensure proper lubrication to engine.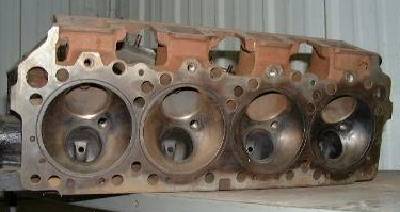 The Cylinder Heads
Chrysler cylinder heads utilize a hemispherical combustion chamber, which creates better thermal and volumetric efficiency. The valves are located across from each other, not side-by-side, to allow better air flow of the intake and exhaust gases. Also note where the spark plugs are positioned, where they can provide maximum ignition combustion in the chamber.
This is the reason why there is no single component on your engine that is more important than your cylinder heads. While it's important that other parts play a major role in producing power the heads are key. We feel so strongly about cylinder heads that we spend hours upon hours modifying them to our specs in our machining facility. Because there are so many cylinder heads out there it would be tough to cover all the work we do on them.
Basically there are cast iron and cast aluminum heads. Both have their advantages and disadvantages. We use performance cylinder heads with 2.02/1.60 stainless valves, bronze guides, multi-angle valve job, new valve springs, retainers, locks & seals, screw in studs and guide plates, are all used for maximum horsepower. Eddies utilizes port matching for optimized flow through the intake, as well as CC'ing intake volume, decking and truing. Remember this is the design of our low cost performance engines. When you get into racing applications this design all changes...dramatically!
The Rocker Arms
Depending upon your application we use performance long slot rockers arms in our basic engine packages. With our more advanced engine setups we use the roller rocker to further decrease valve friction.
Quality Control With Your Engine Is Our #1 Priority
At Eddies Performance quality control is an important factor in our customer experience. Careful measures in checking and double checking clearances is our precedence in producing a fast, reliable engine that will bear our responsibility.
If you would like to discuss your application please give us a call on our toll free number 1-800-471-2325 from 9am to 5pm EST.